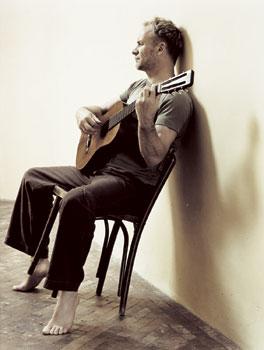 He has been married twice, first to Frances Tomelty (1976-1982) and currently to Trudie Styler whom he married in August, 1992. Sting has 6 children (big family), 2 with Frances and 4 with Trudie: Elliot Paulina, Giacomo, Jake, Joseph, Katherine Fushia, and Mickey.
Sting's mother, Audrey, died of cancer while he was in Montserrat recording "Nothing like the sun", he refused to go to the funeral, because he didn't want to turn it into a media circus, and he dedicated his album to her.
Sting's father, Ernie, died of cancer shortly thereafter. Sting was in Brazil for the Nothing like the sun Tour. He dedicated his next album to him: "The Soul Cages".
Where does he live ?
He owns an estate in Wiltshire, England called Lake House where "Ten Summoner's Tales" and "Mercury Falling" were recorded. He also owns a home in the London area, an apartment in NY City, a home in Malibu (which you can see on the DVD "Inside the songs of Sacred Love"), in California and a villa in Tuscany (which you can see on the DVD "All this time"), Italy.

::..:: PREVIOUS ::..::