Sting said : "My name Sumner comes from Summoner, a medieval Summoner which is one of the characters in the Canterbury Tales and so it was a mild literary joke to call the album Ten Summoner's Tales."
Why Ten whereas there are 12 songs ? He said about that, the two others songs are the prologue and the epilogue.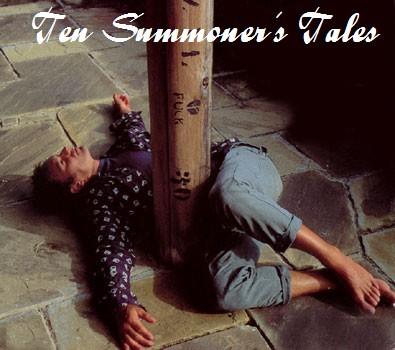 :: If I ever Lose My Faith In You ::
:: Love is Stronger Than Justice :: "I concocted this little story based on the movie 'The Magnificent Seven' where they help this Mexican town to get rid of the bandidos, but they are all promised a wife. And unfortunately, there is only one eligible female in the whole place so the leader of the seven 'brothers' decides to kill the other six to get the woman."
:: Fields Of Gold :: The major theme in this is commitment. It is about a man who has broken promises before, but is determined make this relationship last.
::Heavy cloud, No rain :: "I just liked the idea of Louis XVI having an astrologer who would tell him his execution could be postponed if it rained, because he looks up at the sky and says well its heavy cloud but no rain. That is kind of funny."

:: She's Too Good For Me :: seems to be a resumption of The Beatles' song "Can't buy Me Love" which Sting takes some lyrics like "She don't want no diamond ring..." or "She don't want to drive my car".
:: It's Probably Me :: This song was co-written by Eric Clapton and Michael Kamen, and is the soundtrack of the movie "Lethal Weapon III".
:: Everybody Laughed But You ::
:: Shape Of My Heart :: another soundtrack for the movie "Leon: The Professional", and one of the rare songs that is co-written by Sting's long time guitarist, Dominic Miller.